kas ir xanax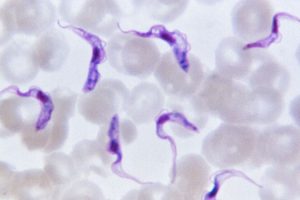 A single dose of oral acoziborole resulted in a greater than 95% cure or probable cure rate for human African trypanosomiasis (HAT), also known as sleeping sickness, according to results from a clinical trial testing a one-dose experimental drug.
The drug has "the potential to revolutionize treatment" for the disease, which remains endemic in sub-Saharan Africa, said Antoine Tarral, MD, head of the Human African Trypanosomiasis Clinical Program at the Drugs for Neglected Diseases initiative (DNDi), based in Geneva, Switzerland, and senior author of the study, cla ab cuts in a press release.
"It's fantastic news, because it's the first time that with one single administration you can treat the disease," he told Medscape Medical News. "It's the first drug we can use without hospitalization…all the previous medications needed hospitalization, and therefore we could not treat the population early before they started expressing symptoms."
The World Health Organization (WHO) "has been working for decades for such a possibility to implement a new strategy for this disease," Tarral said.
Current (2019) WHO guidelines recommend oral fexinidazole as first-line treatment for any stage of the disease. The 10-day course often requires hospitalization and skilled staff. Previous recommendations required disease-staging with cerebrospinal fluid (CSF) sampling and 7 days of intramuscular pentamidine for early-stage disease or nifurtimox-eflornithine combination therapy (NECT) with hospitalization for late-stage disease.
By contrast, acoziborole, which was codeveloped by the DNDi and Sanofi, "is administered in a single dose and is effective across every stage of the disease, thereby eliminating the many barriers currently in place for people most vulnerable to the diseases, such as invasive treatments and long travel distances to a hospital or clinic, and opening the door to screen-and-treat approaches at the village level," Tarral said in the statement.
"Today, and in the future, we will have less and less support to do this long and costly diagnostic process and treatment in the hospital," he said in an interview. "This development means we can go for a simple test and a simple treatment, which means we can meet the WHO 2030 goal for ending transmission of this disease."
Results from the multicenter, prospective, open-label, single-arm, noncomparative, phase 2/3 study were published in The Lancet.
Pragmatic Study Design
Sleeping sickness is caused by Trypanosoma brucei gambiense (gambiense HAT). It is transmitted by the tsetse fly and mostly fatal when left untreated.
The study enrolled 208 adults and adolescents (167 with late-stage, and 41 with early-stage or intermediate-stage disease) from 10 hospitals in the Democratic Republic of the Congo and Guinea. All patients were treated with acoziborole 960 mg — an unusual study design.
"Due to the substantial decline in incidence, enrolling patients with gambiense HAT into clinical trials is challenging," the authors wrote. "Following advice from the European Medicines Agency, this study was designed as an open-label, single-arm trial with no comparator or control group."
After 18 months of follow-up, treatment success, defined as absence of trypanosomes and < 20 white blood cells per μL of CSF, occurred in 159 (95.2%) of the late-stage patients, and 100% of the early- and intermediate-stage patients, "which was similar to the estimated historical results for NECT," the authors noted.
Serious treatment-emergent adverse events were reported in 21 (10%) of patients, "but none of these events were considered drug-related," they added.
The DNDi and the WHO are currently nearing completion of a much larger, double-blind, placebo-controlled trial of acoziborole to "increase the safety data base," Tarral explained.
"Purists will say that acoziborole has not been evaluated according to current standards, because the study was not a randomised trial, there was no control group, and the number of participants was small," said Jacques Pépin, MD, from the University of Sherbrooke, in Quebec, Canada, in a linked commentary.
"But these were difficult challenges to overcome, considering the drastic reduction in the number of patients with HAT and dispersion over a vast territory, particularly in the Democratic Republic of the Congo. For these reasons, the authors took a pragmatic approach instead," he wrote.
A Potential New Tool for Eradication of Sleeping Sickness
"This is really an exciting development, which will be useful in the drive for eradication/interruption of transmission of this disease," Pépin told Medscape Medical News.
Pépin treated around 1000 trypanosomiasis patients during an outbreak in Zaire in the early 1980s. Because the asymptomatic incubation period for the disease can be several months or even years, "the core strategy for controlling the disease is active screening," he said in an interview.
"You try to convince the whole population of endemic villages to show up on a given day, and then you have a mobile team of nurses who examine everybody, trying to find those with early trypanosomiasis. This includes physical examination for lymph nodes in the neck, but also a blood test whose results are available within minutes," he said.
"Until now, these persons with a positive serology would undergo additional and labour-intensive examinations of blood to try to find trypanosomes and prove that they have the disease. So far those with a positive serology and negative parasitological assays ('serological suspects') were left untreated, because the treatments were toxic and cumbersome, and because a substantial but unknown proportion of these 'suspects' just have a false positive of their serological test, without having the disease," Pépin said.
"Now with acoziborole, which seems to have little serious toxicity…and can be given as a single dose oral med, it might be reasonable to treat the 'serological suspects,' " he said.
"Take it one step further, it might be possible to do the serological test only and treat all individuals with a positive serology without bothering to do parasitological assays. This is what they call 'test and treat' strategy. It would make sense, provided that we are sure that the drug is very well tolerated."
Pépin added that he is "just slightly worried" about three patients described in the paper who had psychiatric adverse events 3 months after treatment. "If that happens to patients who indeed have trypanosomiasis, that's a reasonable price to pay considering the toxicity of other drugs," he said. "If that happens to serological suspects, many of whom don't have any disease, this becomes a preoccupation."
But Tarral said, "we have no indication that the drug can provoke psychiatric symptoms. In fact, the psychiatric symptoms did not emerge — they re-emerged after 3 months due to some patients' refusal to be followed up."
"We included patients in very advanced stages of the disease, and these symptoms are considered disease sequelae," Tarral said. "The majority of patients who have such psychiatric symptoms need follow-up after treatment. If not, they can relapse very early. There were a lot of patients who had such symptoms and the investigators proposed they should be followed by a psychiatrist and some of them refused. And due to that only three of our patients had this relapse, and they were cured after psychiatric support."
Lancet. Published online November 29, 2022. Full text
The study was funded through the DNDi and was supported by grants from the Bill & Melinda Gates Foundation; UK Aid; the Federal Ministry of Education and Research through Kreditanstalt für Wiederaufbau (known as KfW), Germany; the Swiss Agency for Development and Cooperation; Médecins Sans Frontières; the Dutch Ministry of Foreign Affairs, the Netherlands; the Norwegian Agency for Development Cooperation; the Stavros Niarchos Foundation; the Spanish Agency for International Development Cooperation, Spain; and the Banco Bilbao Vizcaya Argentaria (known as BBVA) Foundation.
A number of study investigators, including Tarral, report employment at the DNDi. Other investigators report fees from the DNDi for the statistical report, consulting fees from CEMAG, D&A Pharma, Inventiva, and OT4B Pharma. The Swiss Tropical and Public Health Institute acted as a service provider for the DNDi by monitoring the study sites. Pépin declared no relevant financial relationships.
Kate Johnson is a Montreal-based freelance medical journalist who has been writing for more than 30 years about all areas of medicine.
Source: Read Full Article