q contiene el augmentin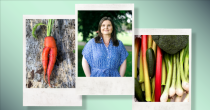 Struggling with low mood and the pain of grief, Catherine Renton went to see her GP. He surprised her by delivering a prescription for time in nature. In a first-person piece for Processing, a Frame Of Mind series, she shares how this saved her life. 
In February 2020, medicine from overseas I sat in my GP's office and told him I was struggling with low mood and needed help. I wasn't sure if it was seasonal sadness or the clinical depression I'd had since my teens was becoming resistant to antidepressants. I told my GP I wasn't very attached to being alive, a sentence I'd uttered before. When he asked if I had planned to end my life, I said: "No. But most days I'm disappointed to wake up."
I was on the highest dose of my antidepressants, a medication I'd started taking when my mum died seven years earlier, and had been on the waiting list for NHS therapy for over a year. I asked if there was anything I could do to lift the suffocating doom while I waited for counselling.
My GP frowned as he asked: "How often do you go outside?"
I was confused by the change of subject. "Well, I went outside to come here, does that count?"
He smiled. "Do you regularly spend time outdoors?"
I didn't. I spent eight hours a day in an office with an almost two-hour commute. Outside was something I saw from a bus or office window. My GP explained that he was reluctant to change my medication as he suspected my depression had been exacerbated by the winter months. He said: "Have you ever heard of a nature prescription?"
"That sounds like something you suggest when you've run out of ideas," I replied.
"I was never particularly outdoorsy"
I'd had similar discussions in the past, so I was sceptical. Depressed? Exercise for endorphins! Anxious? Download a meditation app! If my GP was about to suggest I take up birdwatching to cure my depression, I was going to roll my eyes so bloody hard.
My GP explained that studies had found positive links between nature and mental health, citing research in Denmark that showed 10 weeks of gardening was as effective as cognitive behavioural therapy (CBT). The surgery was in consultation with the RSPB to pilot nature prescriptions, and I was offered a leaflet with some tasks to try. I was deeply cynical that looking at trees would make me feel better, but I figured I had nothing to lose. 
I'm not someone you would have described as 'outdoorsy'. I closed my bedroom windows because I found the sound of birdsong annoying. I felt idiotic as I looked at a list of activities, which included reading poetry and appreciating the clouds. 
I committed to spending more time outdoors, and instead of devoting lunchtime to doomscrolling, I went outside and enjoyed some screen-free time. I carved out chunks of weekend time to be in nature and fully take in my surroundings rather than watching the world go by from a bus window. 
Less than a month later, the first national lockdown was announced, and my depression was replaced by anxiety. I put this down to pandemic panic, but as I had time to unpick my feelings, I realised the problem. I didn't want to stay at home all day. I needed to be outside, experiencing the world with all my senses. I wanted to hear the birdsong and feel the crunchy frost underfoot first thing in the morning. I needed to be connected to the wider world, not stuck inside with my catastrophic thoughts. Knowing I could still leave the house for exercise felt like a lifeline in a truly awful time.
Locked down with my elderly father, our world became very small. Then one day, vegetable plants Dad had ordered for his allotment pre-Covid started arriving. But Dad was struggling with a back injury and on the verge of giving up gardening, so I offered to help. I had no idea what I was doing or that I was about to develop an emotional and meaningful connection to a little plot of land. 
"I started helping my dad out with his allotment"
I'd visited the allotment before but was never keen on mucking in. I'm a massive germophobe, have little patience and scream at the sight of creepy crawlies. I couldn't deny the allotment was special, though. Not only because it gave my dad a sense of community after Mum died but because Mum's ashes are scattered there.
A pair of insomniacs, Dad and I started visiting the allotment every morning before 7am. I didn't notice the change in my mood immediately; it happened so gradually. Then one day I realised that instead of waking up with a groan, I bounced out of bed. I looked forward to the allotment trips so much that I felt genuinely upset on days it was too wet or windy to visit.
With the Groundhog Day sensation of lockdown, the allotment brought a palpable seasonality. The cycle from seedling to harvest varied by vegetable, and I was in awe of the tenacious nature of plants that overcame frost, flood and strong winds to bear fruit. I thought about the worst days I'd lived through and how I had survived them all. I was more resilient than I'd ever given myself credit for. 
"As we grew our veg, I noticed my resilience grew with them"
The harvest was modest but delicious, and the kitchen became a pickling and preserving hub for the allotment treasure. Then, realising the harsh winter would stop our daily visits, I turned my attention to planting bulbs in containers at home and buying vegetable seeds. I'd come so far: having started the year unable to think a day ahead, I was now planning months in advance.
When I revisited the GP in the autumn of 2020, I was bursting with tales from the allotment. Pictures of misshapen potatoes and wonky carrots filled my camera roll. My face, ordinarily pale, had a glow about it. I surprised myself by saying I wanted to reduce my dose of antidepressants. My doctor didn't even try to hide his smile.
You may also like
"Autism made me feel like I was on an alien planet – now I'm sharing the reality of neurodiversity on a hit Netflix show"
I wasn't the only one who gained something from the nature prescription; the pilot I was involved in saw nearly three-quarters of recipients see the benefits, with the scheme being extended to other areas. But as evangelical as I now am about the great outdoors, I don't believe nature prescriptions are a cure for woefully underfunded mental health services and should not be used in isolation but as part of a larger care plan.
I no longer take medication but still have occasional mental health wobbles. They usually happen in the dark winter months or when I'm not engaging with nature. Now, when I feel like the walls are closing in, I chuck on my shoes and go outside.
The world changed for everyone during the pandemic. The most significant change for me? I'm incredibly attached to being alive and have nature to thank for that. 
Images: courtesy of Catherine Renton
Source: Read Full Article