Kate Middleton Revealed Her Favorite Part of Being a Princess & It's Such a Mom Answer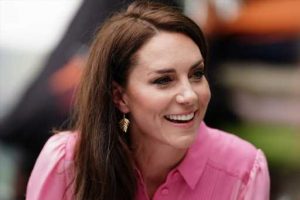 Kate Middleton just ushered in picnic season with a bunch of kids at the first Children's Picnic at the Royal Hospital Chelsea Flower Show on May 22, and she addressed a very important question: what's the best part of being a princess? We all want to know — and just leave it to kids to actually ask!
When a child asked her what it was like being a princess, Middleton had such a mom answer. "You have to work hard, but you know the best thing about it is meeting kiddies like you," she said, per Daily Mail. Awww! Our hearts are melting. Of course she would say meeting with cute kids is her favorite part, I love that!
https://www.instagram.com/p/CsjMKXvtEJZ/
A post shared by The Prince and Princess of Wales (@princeandprincessofwales)
Princess Kate, who is mom to Prince George, 9, Princess Charlotte, 7, and Prince Louis, 5, with husband Prince William, also talked about how princesses help others. "They help support all the different people in the country, showcase all the amazing work being done and look after everyone."
This Was the First Children's Picnic at the Chelsea Flower Show

Image Credit: Jordan Pettitt-WPA Pool/Getty Images

At the Chelsea Flower Show, 10 schools from the Royal Horticultural Society's (RHS) Campaign for School Gardening were invited to bring pupils for the first Children's Picnic in the event's 110-year history. During the event, the Princess of Wales took part in a bug hunt, helped plan a home-grown meal, and listened to how gardens can support health and wellbeing, per Daily Mail.

She Revealed What Prince Louis Is Growing at School

Image Credit: Jordan Pettitt-WPA Pool/Getty Images

During the event, Princess Kate talked about gardening with the kids.

According to the outlet, she asked a group of students, "Are any of you keen gardeners? Do you get the chance to plant things at school? What sort of things do you grow and then do you get to eat them? It's so rewarding isn't it, when you see plants growing and then you have them on your plate."

She also revealed one of her favorite plants. "There's a plant that smells like chocolate. I remember my granny showing me that when I was little. It has very dark leaves and you rub it and it smells like chocolate."

When the students started talking about growing sunflowers, Middleton revealed what her youngest son Prince Louis is growing at school."They get so big, don't they?" she said about sunflowers, per Daily Mail. She added, "Louis is growing broad beans at school. You put them in a cup and you can see them roots growing. They get big quickly like sunflowers."

Kate Middleton Drew Pictures for the Kids

Image Credit: Jordan Pettitt-WPA Pool/Getty Images

When some of the kids asked the Princess for her autograph, she revealed an unusual royal rule: she's not allowed to sign her name!

"I can't write my name, but I can draw," Princess Kate said, per Daily Mail. She then drew a flower, a tree, and a pond surrounded by plants for different children.

When she was asked about her name, she responded, "My name's Catherine. I'm not allowed to write my signature, it's just one of those rules." That seems like such an odd rule, doesn't it? But at least the kids got cool drawings from Princess Kate, who also told the children, "My kiddies like palm trees" when she attempted to draw one.

The Princess of Wales Encouraged Children to Be Invited to the Chelsea Flower Show

Image Credit: Karwai Tang/WireImage

During the event, Princess Kate said, "My kids love being in the natural world but not all kids have access to that."

In fact, Middleton's passion for children experiencing nature is one reason why the Chelsea Flower show invited kids this year. According to The Independent, Princess Kate co-designed a Chelsea Flower Show garden in 2019 to encourage the public to get back in touch with nature, during which she revealed that she thought more children should be involved.

At this week's event, per Daily Mail, the Princess of Wales said, "It's so great that the kids are here. At the time [of her 2019 garden], children weren't allowed on the site. It's so inspiring for them, for their creativity. It's a total haven for them and they learn in a different way."

It's so true. And with a princess there to encourage them, these kids are sure to become lifelong garden lovers, just like the royal kids.
Source: Read Full Article