Long-Term Benefit From Nivolumab Plus Cabozantinib in RCC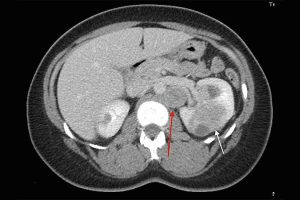 SAN FRANCISCO ― Longer-term data now confirm the superiority of the combination of nivolumab and cabozantinib in comparison with sunitinib in the first-line treatment of advanced renal cell carcinoma (RCC).
"After 41 months of median follow-up, nivolumab plus cabozantinib maintained clinically meaningful benefits in long-term survival and response vs sunitinib," reported lead study author Mauricio Burotto, MD, of the Bradford Hill Clinical Research Center in Santiago, Chile.
"Median overall survival with nivolumab plus cabozantinib improved by 11.8 months since the previous database log."
Burotto also noted that the overall response rate with combination therapy was durable, with higher complete response rates in comparison with sunitinib independently of where patients fell with respect to International mRCC Database Consortium (IMDC) risk groups. "These results continue to support nivolumab plus cabozantinib as a first-line treatment for patients with advanced or metastatic RCC," he said.
The findings were presented at the Genitourinary Cancers Symposium (GUCS) 2023.
Interim results from this study had previously been presented at meetings and were published in The New England Journal of Medicine. At the median follow-up of 18.1 month, nivolumab plus cabozantinib was superior to sunitinib in all three efficacy endpoints — progression-free survival (PFS), overall survival, and overall response rate, explained Burott.
The long-term data show that these benefits continued, Burotto told the audience. "At the median follow-up of 32.9 months, all these benefits were maintained, and the superiority of nivolumab plus cabozantinib vs sunitinib was clear."
Continued Benefit at All Endpoints
The results come from the phase 3 CheckMate 9ER trial, which involved 651 adults with previously untreated clear-cell, advanced RCC. Participants were randomly assigned to receive either nivolumab (240 mg every 2 weeks) plus cabozantinib (40 mg once daily) or sunitinib (50 mg once daily for 4 weeks of each 6-week cycle). The median age of the patients was 56–63 years, and the vast majority were men. For most participants, tumor PD-L1 expression was <1% or of indeterminate status.
At a median follow-up of 44 months, the median PFS of the combination therapy group was almost double that of the sunitinib group, Burotto emphasized, at 16.6 months vs 8.4 months (HR, 0.58).
Subgroup analysis of IMDC risk group showed that patients with intermediate-risk or poor-risk disease derived the most benefit from nivolumab plus cabozantinib in comparison with patients who received sunitinib. "In this last combined intermediate-poor risk group, the median progression-free survival was 16.4 months in the combined therapy arm and 7.1 month in the monotherapy arm," said Burotto.
Similarly, median overall survival was 49.5 months with nivolumab plus cabozantinib, vs 35.5 months with sunitinib, which translated into a 30% reduction in the risk of death (HR, 0.70).
With respect to overall survival by IMDC risk groups, the combination therapy was superior in the combined intermediate-risk and poor-risk group, at 49.5 vs 29.2 months.
The overall response rate also favored nivolumab plus cabozantinib (55.7% vs 28.4%), as did complete response (12.4% vs 5.2%). In the combined intermediate/poor-risk groups, the overall response rate also favored nivolumab plus cabozantinib (52.6% vs 23.8%).
For safety, treatment-related adverse events of any grade were experienced by most of the cohort: 97% of patients treated with nivolumab plus cabozantinib, vs 93% patients treated with sunitinib (grade ≥3 treatment-related adverse events, 67% vs 55%). In the combination arm, 27.5% discontinued therapy because of side effects, vs 10.6% in the sunitinib arm.
"No new safety signals emerged with additional follow-up in either arm," Burrotto commented.
Head-to-Head Data Needed
In a discussion of the article, Manuela Schmidinger, MD, of the Medical University of Vienna, Austria, noted that the median overall survival of almost 50 months "is remarkable in the context that we have probably not expected that much when looking at the last date of the last follow-up, and no new safety signals. So the initially reported results remain robust after longer follow-up, even getting better, like a wine that is getting better with age."
Schmidinger noted that, similar to what has been seen with other combinations of an immuno-oncology agent with a tyrosine kinase inhibitor (IO-TKI), an improvement in survival with nivolumab plus cabozantinib was less evident for patients with favorable-risk disease. "However, most IO-TKI combinations have been shown to improve the complete response rates when compared to the former standard of care, sunitinib," she said.
She pointed out that there are "still serious gaps of knowledge." Questions include when to use IO-TKI combinations and which combinations to use. "I'm pretty sure that the choice of TKI matters in such combinations," she said.
"And we need to know more about the spectrum of target activity of the different involved TKIs, their pharmacological potency," she added. "But this data needs to be studied, along with individual molecular properties of the tumor. And of course, to make the next big step in kidney cancer, we also need new agents."
Also weighing in on the study, Benjamin A. Gartrell, MD, director of the Genitourinary Malignancy Program at Montefiore Einstein Cancer Center and assistant professor of oncology and urology at the Albert Einstein College of Medicine, New York, noted that there are currently multiple first-line therapy options for patients with metastatic clear-cell RCC.
"Combination therapy with a tyrosine kinase inhibitor plus an immuno-oncology agent or a combination of two IO agents has been proven to prolong survival vs sunitinib in clinical trials," he said. The updated results "reconfirm that nivolumab plus cabozantinib should remain a standard-of-care option in the first-line setting.
"However, there are no head-to-head data comparing nivolumab plus cabozantinib to other combinations," he pointed out. "Therefore, multiple options remain appropriate in this setting," said Gartrell.
The study was funded by Bristol-Myers Squibb (BMS) and Ono Pharmaceutical, marketers of nivolumab. Burotto has relationships with AstraZeneca, BMS, MSD Oncology, Novartis, and Roche/Genentech. Schmidinger has relationships with Alkermes, BMS, Eisai, EUSA Pharma, Ipsen, Janssen Oncology, Merck Sharp & Dohme, MSD Oncology, and Roche. Gatrell has disclosed no relevant financial relationships.
Genitourinary Cancers Symposium (GUCS) 2023: Abstract 603. Presented February 18, 2023
For more news, follow Medscape on Facebook, Twitter, Instagram, and YouTube.
Source: Read Full Article