Talazoparib Add-On Improves Outcomes in Metastatic Prostate Cancer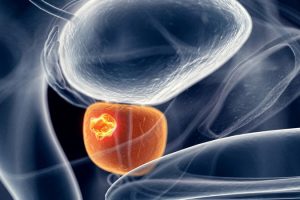 SAN FRANCISCO — Adding the PARP-inhibitor talazoparib (Talzenna, Pfizer) to treatment with the androgen pathway inhibitor enzalutamide (Xtandi, Astellas, Pfizer) significantly improved progression-free survival (PFS) in comparison with enzalutamide alone for patients with metastatic, castration-resistant prostate cancer (mCRPC) in the TALAPRO-2 trial.
As determined on the basis of imaging, PFS was 37% better for talazoparib plus enzalutamide than for enzalutamide monotherapy. Combination therapy proved superior regardless of homologous recombination repair (HRR) pathway status, note the authors.
"Not only did the combination therapy delay disease progression, it also significantly delayed progression of PSA [prostate-specific antigen] readings and the time until chemotherapy was needed compared to the control group," said lead study author Neeraj Agarwal, MD, professor of medicine and director of the Genitourinary Oncology Program at the Huntsman Cancer Institute, University of Utah.
"This is important because advanced prostate cancer can be associated with pain, fractures, suffering, and death. The current standard-of-care treatments were approved almost a decade ago, leaving a huge, unmet need for novel drugs in this setting," he said.
The new results could pave the way for a prostate cancer indication for talazoparib; the company has said that it will submit these data to regulatory authorities. At present, the drug is approved only for use in BRCA+ breast cancer, an indication that was approved in 2018.
The findings were presented here at the Genitourinary Cancers Symposium (GUCS) 2023.
Overall, talazoparib plus enzalutamide resulted in a statistically significant and clinically meaningful improvement in PFS over placebo plus enzalutamide. "Results from the primary analysis of the TALAPRO-2 trial support the use of talazoparib plus enzalutamide as a first-line treatment in patients with mCRPC regardless of HRR gene alteration status," Agarwal and colleagues concluded.
However, one expert disagreed with the authors' conclusion regarding HHR pathway status. On the basis of imaging, PFS was 54% better in HHR-deficient patients in the combination therapy group. It was 30% better for patients with HHR-nondeficient tumors or tumors without known HHR status based on imaging and 34% better based on tumor tissue testing.
"There was a huge magnitude in benefit based on HHR, and I think HRR status matters," commented Elena Castro, MD, PhD, Instituto de Investigación Biomédica de Málaga, Spain, who served as the invited discussant.
"We need to understand the benefit of ARPi [androgen receptor pathway inhibition] and PARP inhibitors better," she said. "The balance between side effects and benefit depends on HRR status."
Castro also noted that the treatment landscape has changed. ARPi is now a standard of care for metastatic prostate cancer, both for hormone-sensitive and castration-resistant disease, she said. "So the question is, does the addition of a PARP inhibitor induce responses after progression to an ARPi in HHR nondeficient tumors?"
Study Details
In the TALAPRO-2 trial, Agarwal and colleagues randomly assigned 805 patients to receive either talazoparib 0.5 mg or placebo. All patients in the cohort received enalutamide 160 mg daily.
Participants had mCRPC and were unselected for genetic alterations in DNA damage repair pathways directly or indirectly involved with HRR. They were aged 36 to 91 years (median age, 71). The cohort was enrolled from 25 countries, including the United States, Canada, Europe, South America, and countries in the Asia-Pacific region.
The men were stratified on the basis of prior use of abiraterone or docetaxel for castration-sensitive prostate cancer and HRR gene alteration status. The study's primary endpoint was imaging-based PFS (ibPFS) by blinded independent central review (BICR).
Overall, median ibPFS by BICR was significantly improved in the combination group in comparison with the patients who received placebo; it was not reached vs 21.9 months (hazard ratio [HR], 0.63; P < .001). It was also significantly improved among the HRR-deficient subgroup (HR, 0.46; P < .001) as well as in the HRR-nondeficient or unknown (HR, 0.70; P = .004) and HRR-nondeficient patients by tumor tissue testing (HR, 0.66; P = .009).
Talazoparib plus enzalutamide was also favored with regard to other endpoints. Agarwal noted that while overall survival data are as yet immature, objective response rates, PSA response ≥50%, and time to PSA progression and use of subsequent cytotoxic chemotherapy and antineoplastic therapy significantly favored the talazoparib group.
The objective response rate was 61.7%, vs 43.9% (P = .005), with 37.5% vs 18.2% complete responses.
"The higher rates of complete response suggest a cooperative effect of talazoparib plus enzalutamide treatment," he explained.
High Rate of Adverse Events
The rate of treatment-emergent adverse events (TEAEs) was higher among patients who received talazoparib plus enzalutamide; 71.9% of the patients who received talazoparib plus enzalutamide experienced grade 3–4 TEAEs, vs 40.6%. The most common grade ≥3 TEAEs in the talazoparib group were anemia, low neutrophil counts, and low platelet counts. Hypertension, anemia, and fatigue were the most common in the placebo group. Talazoparib was discontinued in 19.1% of patients because of TEAEs. Enzalutamide was discontinued in 10.8% of patients in the combination group, vs 11.0% in the placebo group.
Agarwal pointed out that there were TEAEs of special interest for talazoparib. "Myelodysplastic syndrome was reported in one patient during the safety reporting period, and acute myeloid leukemia was reported in one patient during the follow-up period," he said.
Additionally, pulmonary embolism was reported in 10 (2.5%) patients (grade 3 in nine patients) in the talazoparib arm and in three (0.7%) patients (all grade 3) in the placebo arm.
Results Less Relevant
Commenting on the study, Matthew Zibelman, MD, associate professor, Department of Hematology/Oncology, Fox Chase Cancer Center, Philadelphia, Pennsylvania, noted that these results represent an "intriguing finding for men with mCRPC, particularly in conjunction with the previously reported PROPEL study results.
"However, given that many patients receive an androgen receptor inhibitor now for metastatic castration-sensitive prostate cancer, these results are less relevant to current practice," Zibelman said.
"Demonstration of an overall survival benefit of the combination would be optimal to change standard of care vs potential sequential therapy."
The study was sponsored by Pfizer, manufacturer of enzalutamide and talazoparib. Agarwal has relationships with numerous pharmaceutical companies. Castro has relationships with Astellas Pharma, AstraZeneca, Bayer, Clovis Oncology, Janssen-Cilag, Merck, MSD Oncology, Novartis and Pfizer, and Roche. Zibelman has relationships with Bristol-Myers Squibb, Exelixis, Pfizer, Jannsen, EMD Serono, and Blue Earth.
Genitourinary Cancers Symposium (GUCS) 2023: Abstract LBA 17. Presented February 16, 2023.
Roxanne Nelson is a registered nurse and an award-winning medical writer who has written for many major news outlets and is a regular contributor to Medscape.
For more news, follow Medscape on Facebook, Twitter, Instagram, and YouTube.
Source: Read Full Article