The choir that takes cancer patients away from life and death struggles
There is every chance of hearing Louis Armstrong's What A Wonderful World, the Monkees' I'm A Believer or Bruno Mars' Count On Me.
There could also some Elvis, Beatles, Abba, Oasis or Crowded House.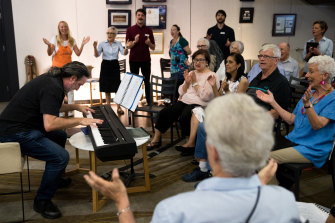 "The music floats up": choirmaster Robert Teicher, on keyboards, leads the Chris O'Brien Lifehouse choir that includes former science teacher Michael Tapsell, second from right, and long-time Play School presenter Benita Collings, right.Credit:Janie Barrett
The feelgood music that floods the foyer of Chris O'Brien Lifehouse every Thursday lunchtime comes from an unlikely choir of mostly cancer patients – some in wheelchairs with IV drips, walking frames and occasionally even wheeled down in beds – their families, volunteers and staff.
Untrained but enthusiastic, they are all taking an hour away from life-and-death struggles to sing uplifting music.
And rarely has a verse of a Johnny Nash classic felt more poignant.
"I can see clearly now the rain has gone," they sing warmly. "I can see all obstacles in my way. Gone are the dark clouds that had me blind. It's gonna be a bright, bright, bright sunshiny day."
"I wouldn't miss it for the world": Judith Maher sings along in her mobility scooter. Credit:Janie Barrett
Having arrived on a mobility scooter, Judith Maher is in remarkably high spirits, despite being in palliative care with a lung condition. The 82-year-old comes from Glebe every week for the inspiring music, even if it means postponing medical appointments.
"I love both the atmosphere and the benefits I feel it brings to my decaying lungs," she says. "It's a great outing for me. I wouldn't miss it for the world."
One familiar face is long-time Play School presenter and actress Benita Collings, who is neither cancer patient nor relative of one. Invited along by friends who volunteer for the choir, she has kept coming back – and only partly because she enjoys the singing and camaraderie.
"The music floats up," she says. "I think about the enjoyment it's giving people in the wards."
"It's just so good for the soul": James Ivimey, left, embraces fellow choir member Ken Mayes during the Life House Choir performance.Credit:Janie Barrett
The Lifehouse Choir has been running for four years as part of the music therapy program at the cancer treatment centre opposite Royal Prince Alfred Hospital.
Music therapist Jack Thomas says it is supported by philanthropic funding, from the Goodridge Foundation, which also allows bedside singing sessions and the chance to learn a musical instrument for patients needing a distraction from anxiety, pain and nausea from chemotherapy.
"What music is really good at doing is empowering people and reminding them of who they are outside of here and away from their diagnosis," he says.
Patients can also be taught to write a song about what they are feeling.
"I had a [cancer] patient who wrote a song for her three kids – as a tribute to them and to tell them she loved them, was proud of them and knew they were going to be OK," Mr Thomas says. "That was played for the kids at her funeral."
But the choir is the big event that attracts a different membership every week, depending on who feels well enough.  Choirmaster Robert Teicher energetically encourages everyone – sometimes even passing doctors, nurses and orderlies – to join in while playing the keyboards.
The singing can help patients deal with the shock of a diagnosis.
A long-time outpatient with liver cancer, James Ivimey, 59, from Waterloo, came along this week despite being diagnosed with lung cancer the day before.
"I try to come when I have appointments on a Thursday, which is reasonably frequent," he says. "It makes my day. I'll walk out of here singing and I'll sing up the street. It's just so good for the soul."
On his latest grim news, he says, "I accept it."
Michael Tapsell, a retired science teacher and uncle of actress Miranda Tapsell, is a regular who originally came along to support his wife, Meryl, who was going through cancer treatment. A long-time singer in amateur musicals, she was one of the choir's founders.
"I came to support her but also to sing with her," he says. "It was the one time in the week when she became transported and could forget about her illness and the suffering that it brought with it."
After his wife died, Mr Tapsell kept turning up.
"It's hard coming along with her not there but, on the other hand, I look upon the singing as her final gift to me," he says.
Source: Read Full Article